Indexes and Full Text Journal Databases
Try these other library library databases for finding articles on your topic.

If you are off-campus, click here for instructions on accessing the Law Library's electronic resources, including journals, databases, and e-books.

While most general law reviews publish articles on ADR, there are a number that focus specifically on the topic ADR. Many are available online and in our Periodicals Stacks:
American Journal of Mediation (Electronic Access only)
Cardozo Journal of Conflict Resolution
Conflict Resolution Quarterly (continued Mediation Quarterly)
Dispute Resolution Journal (Electronic access)
Dispute Resolution Magazine

Harvard Negotiation Law Review (Electronic Access)
Journal of Collective Negotiations in the Public Sector (Electronic Access)
Journal of Dispute Resolution
Negotiation Journal (Electronic Access)
Ohio State Journal on Dispute Resolution (Electronic Access)
Pepperdine Dispute Resolution Law Journal
Willamette Journal of International Law and Dispute Resolution
Practice Materials and Books on ADR
Use the online catalog to find alternative dispute resolution treatises available in the Thurgood Marshall Law Library . Some suggested subject headings to search are [Dispute resolution (Law) -- Maryland] or [Mediation -- Maryland]. For research hints on how to use the catalog, see the Research Guide - Searching the Catalog.
Discovery Service @ UM Carey Law
Legal Negotiation
Call Number: KF311 .G54 2007
ISBN: 9780314159120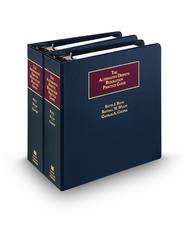 The Alternative dispute resolution practice guide
Call Number: Available on Westlaw
Dispute Resolution
Call Number: KF9084 .G65 2012
ISBN: 9780735507104
Alternative Dispute Resolution
Call Number: KF9085 .G74 2005 (And Westlaw)